On July 12th, a ceremony handing out the first batch of lunar samples collected by Chang'e-5 probe was held in Beijing. China delivered about 17 grams of lunar samples to 13 research institutions. Academician DU Jiangfeng and Prof. QIN Liping from University of Science and Technology of China (USTC) were granted approval 81.1 grams of the lunar samples. Of the seventeen who have been granted, five are alumni of USTC.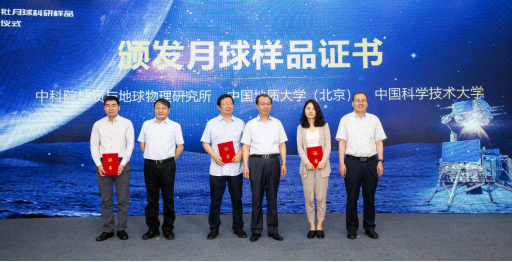 Ceremony of delivering the first batch of lunar samples

Lunar sample certificates of USTC
Lunar samples brought back by the Chang'e-5 probe are the latest lunar sample obtained from the moon, which is of great significance in further scientific study. On the ceremony, LIU Jizhong, director of Lunar Exploration and Space Program Center of CNSA said that more samples will be released and delivered in the future as planned. An increasing number of research institutions will take part in the lunar sample study in the future.
USTC vowed to give full protection to the samples. Accordingly, evaluations and researches will be carried out in no time to explore major scientific issues such as lunar formation and evolution. USTC also planned to organize researchers in preparation for the next round of applications.
(Written by TU Bingxin, edited by LU Hongyu, USTC News Center)